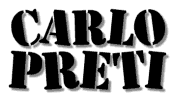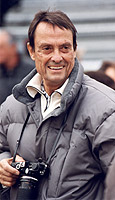 Carlo Preti was born in Udine in 1935. In 1940 he moved with his family to Venice where he developed culturally. Here he gets his school leaving certificate at the scientific "Liceo" "G.B.Benedetti" and a university degree in geology in the nearby Padua. He plays in Giovanni Poli's university theatre of Ca' Foscari as a mime and actor.

Being keen on modern and contemporary art he travels around Europe and comes in touch with the most divergent artistic trends, He is one of the founder of the workshop of artistic serigraphy "Studio 4" where he works with great artists: Capogrossi, Hundertwasser, Ceroli, Vedova, Hains, Gischia....

He works a lot in the graphics and advertising fields.

He attends the nude free school of fine arts Academy of Venice. In 1982 he designs and builds 12 "Astrological Kiosks" for "The Carnival of Magic" on commission of the Venetian town council.

He took part in many collective exhibitions and competitions. He also made some personal exhibitions in Florence, Padua, Mirano-Venice, Trento, Busto Arsizio, Verona, Vittorio Veneto,Venice, Mestre, Chioggia, Belluno, Jesolo, Brunico, Cavarzere, Stra-Venice.

He is included in "The Bolaffi National Catalogue of Modern Art" 1977 and 1978, in the volume "Modern art" edit. Conti '79 and in some other publications.